I was asked by Honest (Kids) who is pairing up with Annie's Homegrown, Stonyfield (Yo Kids), and Organic Valley to contribute to a collaboration called Rock the Lunchbox. With a new school year right around the corner, the idea is to come up with healthy lunch options and then share them on the
Rock the Lunchbox website
so that we (us lunch makers) can gather inspiration and healthy lunch ideas.
Last year at this time Theo was about to start Kindergarten. His first time being away from home for seven hours a day, five days a week. His first time eating lunch without me. I was terrified. I started pinning lunchbox ideas on Pinterest. Weelicious became my night reading. I read insulated thermos reviews on Amazon. I had his lunchbox monogrammed. Totally nuts, and yet so exciting at the same time. With one complete school year of packing lunches under my belt, I felt pretty good about saying yes to this project. Also, many of these products have been staples in our home for years now, which also made it easy for me to get on board with sharing these particular brands.
For this post, I decided to share Theo's three favorite lunches along with a paper bag lunch idea.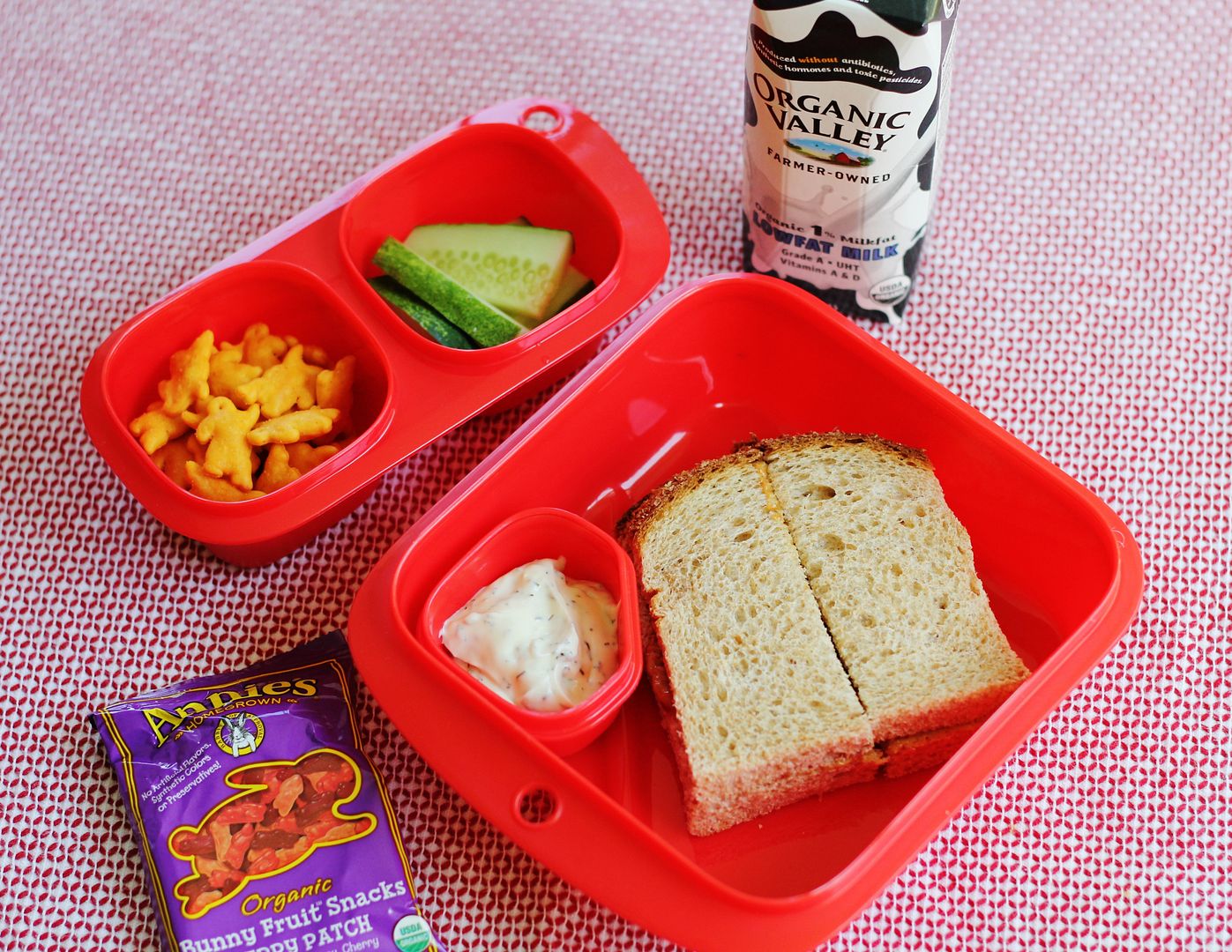 Main: Peanut butter and jelly sandwich
Sides: Cucumber slices with Greek yogurt dip, cheddar bunnies
Treat: Fruit gummies
Drink: Milk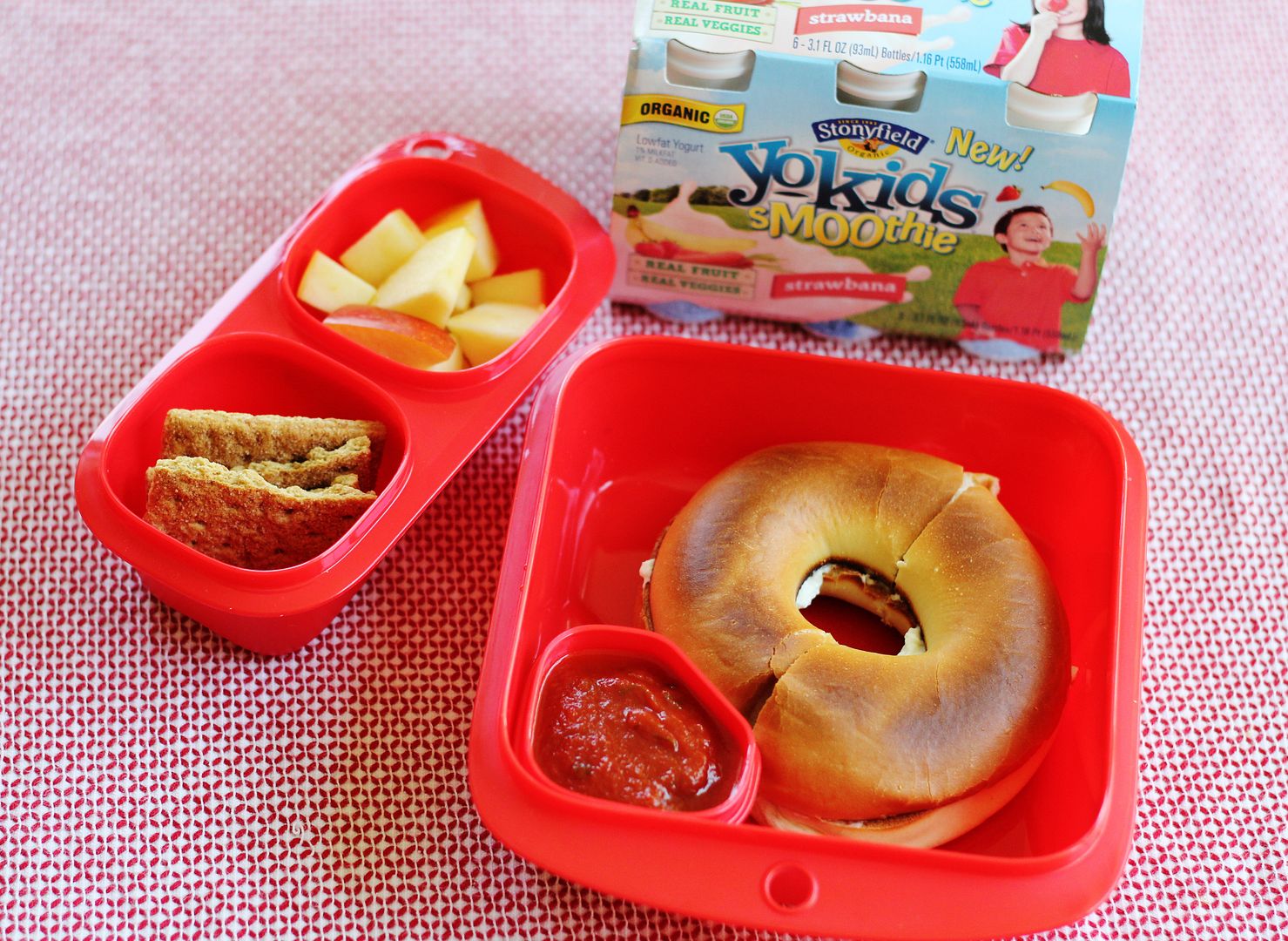 Main: Toasted bagel with cream cheese and a side of pizza sauce for dipping
Side: Apples
Treat: Graham crackers
Drink: Yogurt smoothie
Main: Annie's Mac & Cheese (I buy the box of 5 single servings - super quick and easy to make the morning of.)
Sides: Apples, crackers
Treat: Yogurt tube
Drink: Water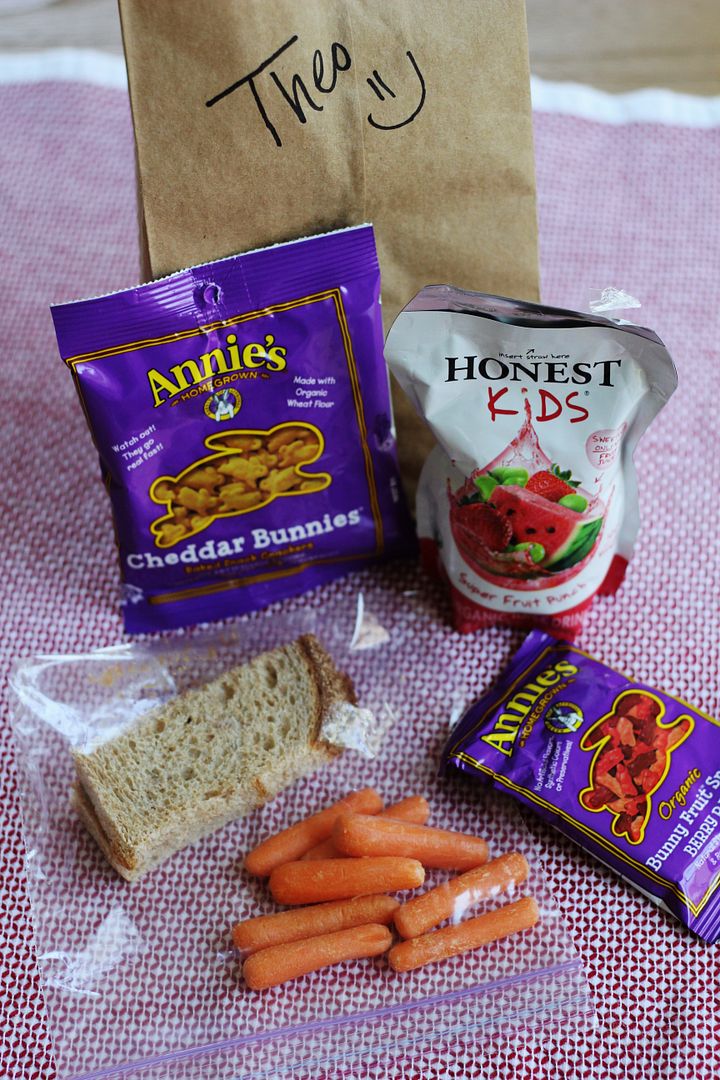 There were times when I had to pack a paper bag lunch - meaning they were having lunch while off campus on a field trip and everything had to be thrown away when they were finished. For this I pictured a sample of what I'd send: A (whole) sandwich, carrots because they pack well, a disposable juice because they can't bring a water bottle, and snacks.
***
I hope this post leaves you with a few new and fun lunchbox ideas. You can visit
Rock the Lunchbox
for lots of great ideas along with sharing your own. You can also download coupons from these great companies. With another school year about to begin in a few weeks, please feel free to leave me some of your favorite lunch ideas in the comments. Even though my little one could probably eat a peanut butter and jelly sandwich every day and be happy, I'm always looking for new ideas and inspiration, too. On that note, I'll leave you with some more of our favorites. Wishing you and yours a wonderful new school year.
These three main dishes: A sandwich, mac & cheese, and a pizza bagel are our standards. Other favorites: quesadilla, beans and rice, pasta noodles with marinara, buttered noodles
Favorite sides: Fresh veggies and dip, fresh fruit, almonds, cheddar bunnies, crackers, cheese, salad w vinaigrette
Favorite treats: Yogurt, yogurt smoothies, fruit gummies, whole wheat fig bars, granola bars, graham crackers